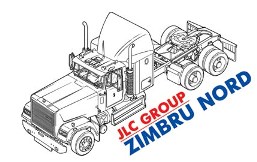 CONTACT
History and activity
The transport company «Zimbru Nord» was established in 1970 in Balti city. Within the framework of the national public bidding, which took place at the end of 2007, the enterprise became the subsidiary company of the concern «JLC Group», situated in Chisinau city. At present «Zimbru Nord» is one of the largest transport companies from the Republic of Moldova.
The company is mainly specialized in providing a wide range of high professional services in the sphere of logistics on the territory of the Republic of Moldova, in CIS countries, Europe, Asia, Middle East and North Africa.
The high level of technical equipment and the managers' professionalism allow our company to assume the responsibility for delivering not only traditional freights, but over-dimensioned, heavy, fragile and dangerous freights as well. It should be mentioned that their transportation demand a special training and the coordination of route with the oversight bodies. The company «Zimbru Nord» possess on the whole 304 means of transport.
In the tendency to correspond always to the increasing demands of the customers, «Zimbru Nord» company constanly extеnds its range of services, as well as improves its management and working methods.

The main tasks of the transport company are as follows:
1. International carriages;
2. Providing of specialized means of transport for raw milk delivery to dairy enterprises from the Republic of Moldova;
3. Transportation of freights in the Republic of Moldova;
4. Transportation of passengers in the Republic of Moldova;

Achivements
Every year «Zimbru Nord» company increases the number of means of transport destined for international carriages, since they represent a prioritary direction for the activity of the company. Thus, the overall percentage of the international carriages in the total cargo turn-over of the enterprise constituted 5% in 2009, 15 % in 2010, 25% in 2011, while in 2012 they are expected to attain 45% from the overall amount of transportations of «Zimbru Nord» company.
The transport company possesses the necessary facilities for providing repairs and maintenance of its own means of transport, as well as rendering maintenance services for other customers.
At present the staff employed at «Zimbru Nord» company constitues 250 persons.

Feedback:
| | |
| --- | --- |
| Name | |
| E-mail | |
| Phone | |
| Question | |
| | |